The Story of What Next – the First Two Years
Getting Started
What do climate activists do when the entire country is shut-down by a pandemic, the origin of which (in all likelihood) being a symptom of the very crisis they are concerned about? Their opportunities for 'action', raising awareness or simply gathering to assuage their climate anxiety constrained by lock-down requirements. This was our situation in Autumn 2020, time on our hands, pressing concerns about the climate crisis in our thoughts and desire in our hearts to act, but how? Then an e-mail, out of the blue, innocent enough, a message from another activist. We'd heard about Climate Emergency Centres, but now we discovered one was being set-up by activists we knew, and the question was asked: would we be interested in establishing a CEC? This was the start of a fun, educational, frustrating and ultimately successful journey to the creation of Godalmings's CEC: What Next?
So, how to start? Well, during lock-down people did have time on their hands, so establishing what we called our 'founding group' we relatively easy. We met on-line, started generating ideas about what the purpose of our CEC might be, what we might do (and we had no shortage of ideas here), how we might do things, who might be involved and what sort of 'legal entity' we would be. Of all these things, the 'legal entity' element was without doubt the most daunting, but also the aspect that made this journey feel very real, we were actually considering creating an entity for which we would have legal responsibility – scary! Of course, there was real irony here too, as the often held view of certain parts of the mainstream media is that that climate activists are mostly legally 'irresponsible' – so this also presented an opportunity to challenge that narrative.
The founding group met many times, a purpose was identified, ideas whittled down, communications established and a name was chosen, in our case: What Next? inspired by Martin Sheen's President Bartlett from the West Wing. But also, in itself a statement about the uncertainty our society faces because of the climate emergency. We also decided to become a charity, we recognised that this was probably the most challenging legal entity to establish, but we felt that it was most appropriate for our purpose and would present a strong message to potential supporters and volunteers.
Becoming a Charity
Next, as a prospective charity, we needed to find some Trustees, prepare a constitution and submit our application. The first task proved relatively simple, drawing directly from our founding group, and from their networks of contacts further afield, we identified six people who would be prepared to take on the legal responsibilities of becoming charity trustees. Next, the constitution, this seemed the most daunting aspect, but in this area the charity commission provide useful and accessible templates, as well as guidance, which made this part relatively straight-forward. Then, the application, an on-line process, but there were many questions to address, and it quickly became clear that there were many potentially 'wrong' answers. But we had help, our friends in a nearby CEC (Zero Carbon Guildford) were already a charity, they provided much sage advice and guidance for us and we had support from Voluntary Action South West Surrey, who reviewed our submission in advance.
So, in early May 2021, we submitted our application. The charity commission were very busy, and it was still partial lock-down, we were informed that the normal six-week process might take up to ten-weeks, so we were looking at a decision in late July. Given the support we received in preparing our application, we were optimistic about our chances, so we started our preparations. We had already bought a domain name, www.whatnext.earth, but web-site was just a holding page, we started adding content about our plans.
We had some creative sessions about our logo and were grateful for some 'donated' professional input. Our creation was a logo featuring the What Next name, with a large question mark and an image of the earth as the dot in the question mark. In our embryonic state we also co-ordinated an event in collaboration with Waverley Borough Council and Godalming Town Council to launch the Take the Jump initiative in Godalming.
However, most importantly over this period we identified a potential venue. Some members of the founding group already had a relationship with a local finance company. This company leased the floor of a building, but they only used half of it. Even more usefully, the unused half was a café / bar area with a full catering kitchen. There were down-sides, the venue was on the first floor, albeit with excellent disabled access and facilities, and it was not on Godalming High Street, it was on a side road. However, there would be no rent, we would take on responsibility for the rates and make a contribution to the utility costs. On balance, we all felt that this was a great opportunity and the venue itself was light, airy, well-appointed with upcycled furnishings and other useful fittings. So, negotiations about using this space for our charity commenced in May between the prospective trustees, the finance company and the building lease holders.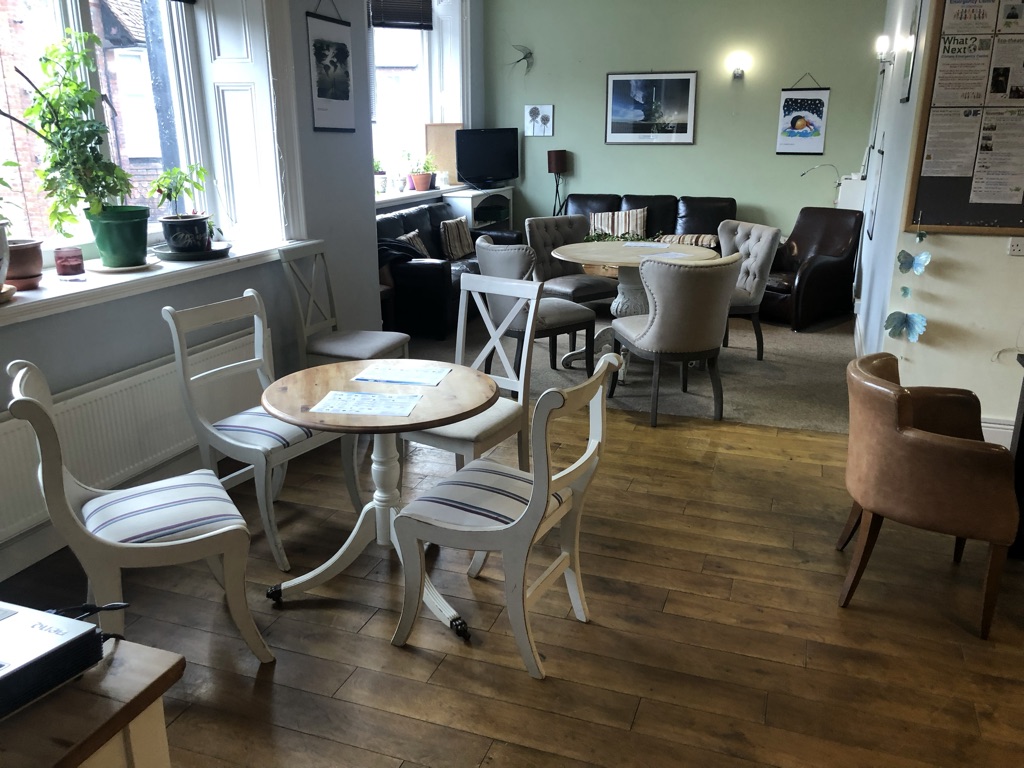 July came and went, as did August, no response from the charity commission. Negotiations concerning the venue had been successful and an agreement for the first year was signed. We had taken over responsibility for paying the rates at the start of August and we had applied for rates relief based on the assumption that we would become a charity; things were starting to get urgent.
We contacted the commission, explained our situation – this was the catalyst for a change of pace. We received a response with two days, it was daunting. Questions from the commission about almost every answer we gave in our application, a number of questions about potential conflicts of interest between trustees business interests and our charity, and additional questions about the 'provisional' content we had started to publish on our web-site. And, they needed a response to all of this within three weeks or our application would be rejected and we'd have to start again!
So, we geared-up, transitioning from a tense waiting period to instant action phase. Meetings were held, discussions ensued, advice was sort, common sense was applied and responses were crafted. Our initial feelings of being over-whelmed were gradually replaced by a growing sense of optimism. Many of the questions were simply asking us to clarify or expand on our answer, questions about potential conflicts were understandable and relatively easy to address and we had accidently created some confusion with our unfinished web-site, which had been extensively reviewed by the commission. We submitted our responses before the deadline in mid-October and waited with anticipation. The response arrived on 4th November 2021, somewhat symbolically during COP26. The hard work of our founding group, our team of trustees, other volunteers and our friends was rewarded, we were successful, What Next had become a charity.
Getting Going and COP26
Prior to formally becoming a charity, we did run some small activities as What Next, most notably the launch of Take the Jump in Godalming: this was a small street festival with music, comedy, dance and stalls provided by members of the Godalming Climate Forum. We also created our What Next Lounge (see left) and launched it at Godalming's first Green Gala in August. The concept was to create an outdoor lounge space, complete with carpets, a sofa, comfy chairs, a coffee table and a solar powered TV; a place for people to sit, chat, get information, have a coffee and share some gluten-free vegan chocolate cake.
In early Autumn, we started a short programme of workshops based around Take the Jump and we ran a pilot of our climate action workshops based on the EN-Roads simulator from Climate Interactive; one of our trustees undertook extensive training during the summer to be able to run these workshops. We also established our eco-theatre group, which started meeting in September 2021. However, our focus for Autumn 2021 was COP26, to be held in Glasgow, the first time COP would be held in the UK.
We knew that COP26 would be an unprecedented opportunity to focus many people's minds on the climate emergency. We planned our programme of events: a series of evening reviews and discussions in our centre about what had been happening at COP, which would ultimately lead to the creation of our climate club; a climate action workshop for staff and councillors from Waverley Borough Council; climate action negotiation sessions for local schools to be held in the Waverley Borough Council Chambers; and, our first street theatre performance from our eco-theatre group – 'Everybird Goes to COP', a raucous street event that would result in the people of Godalming writing messages for the international negotiators meeting in Glasgow (see left). When manged to run them all, and they attracted people, in some cases only a few people, in other cases dozens of people. Regardless, we were now properly up and running, enthusiasm was building, ideas were burgeoning, plans were hatching.
A Brief Pause – let's do the Admin
But we had to pause, through December 2021 and January 2022, the pandemic again exerted its influence, we elected to close the venue over this period and turn our attention to the less exciting, but essential administrative activities. We had a list: we needed a bank account and signatories, we needed insurance, we needed to create an inclusion policy, a data protection policy and to carry out risk assessments, we needed a venue hire policy and we had repair work and cleaning to undertake in the venue. We also needed to create our systems for fund raising, claiming gift-aid and managing donations. These are never the most exciting or glamourous aspects of running an organisation, we weren't expecting a clamour of interest in taking on these tasks, but people stepped up and boxes were ticked, and ultimately we completed everything required by early Summer 2022.
Getting into our Stride
We opened the centre up again in late January and we got into our stride. Inspired by our discussions during COP26, our climate club was born. This is a bi-monthly get together on Friday evenings, we cook together, share food and discuss a topic of relevance to the climate emergency. Topics have included: 'What is the role of climate activism?', 'Eco-holidays', 'How to consume ethically?' and 'The joy of compost'. We set up a small library and we started running weekly drop-in sessions for interested parties and the general public, very slow at the outset, but then we started building our network of contacts. We put on eco-tainment evenings, with climate-focussed songs, eco-comedy, poetry and stories. We invited in our friends from a local ukulele group to run events and provide more music. Our eco-theatre group created a puppet theatre (see left), made almost entirely from waste, and presented their show, 'The Green Leaf Awards', to the general public on Godalming High Street in July and at the Godalming Green Gala in August.
We used the venue as a space for art exhibits, first with art from the 'Our Other Mother' project, created by Parents for the Future. And, more recently, an exhibition of art featuring the natural world from Artventure. Our What Next lounge is now a regular feature on Godalming High Street, often in combination with our eco-buskers or some eco-street theatre. We have our resident Earth Sprites, creations of the eco-theatre group: Nolene (the truth-sayer), Treebeard (the wise), Elsa (the majestic), Faraday (the scientist) and Everybird (their leader); who make regular appearances at our events and also have 'puppet personas'. Finally, our climate action and negotiation workshops have also proven to be very successful. Since November 2021, we have run seven events for schools in Waverley Borough: Broadwater School, Rodborough School and Godalming College, and we have run numerous events for the public or specific interest groups; we have a number planned for the future (see below).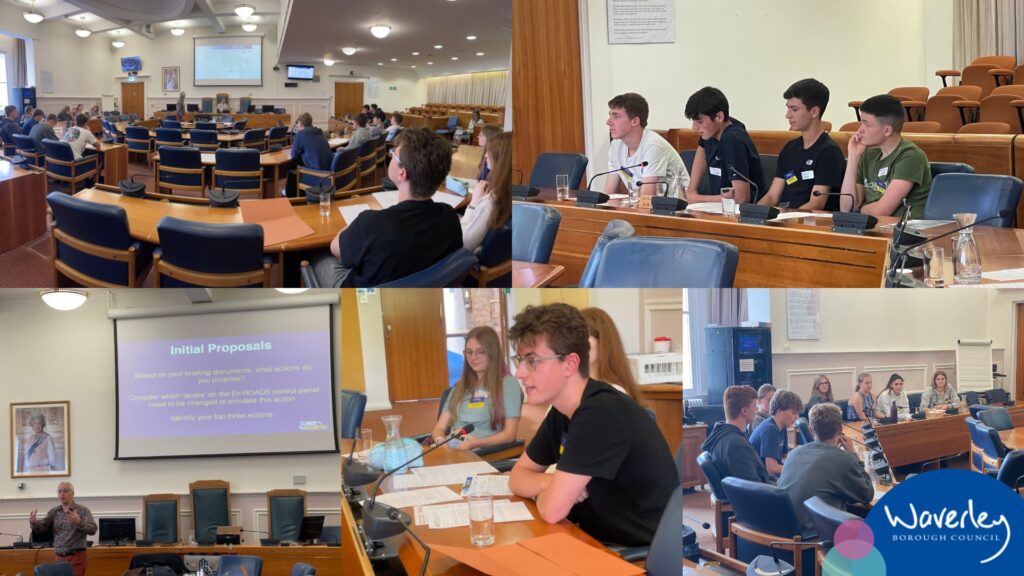 Raising Funds and Managing Challenges
In March 2022, we were lucky enough to secure our first grant from the Godalming Town Council's Carbon Reduction and Biodiversity Fund in support of our planetarian food project inspired by the Eat Lancet commission. In May, we were honoured to be selected as the Mayor of Godalming's charity for 2022/23 and in July, we ran our first fund raising event, hosted by the Mayor, a performance of 'Tales from the Great Wood' by the Bad Apple Theatre Company. Our second major fund raiser was the Mayor's quiz in November, a climate emergency inspired evening with scoring based on reducing carbon emissions. However, more generally fund raising has proven to be a challenge, we were most grateful for some generous initial donations, which provided us with a fantastic start point for the charity. But soliciting donations is both emotionally demanding and socially challenging, we are slowly getting better.
However, it has not all been plain sailing. Recruiting volunteers has proven to be a demanding task. Good volunteers are essential to the running of any charity, but those who volunteer are often the busiest people with many other commitments. This seems particularly the case for the 'climate concerned', every volunteer and supporter we have is involved with at least one other climate concerned group or body, with many of them involved with multiple groups. On top of volunteers, supporters are also essential; these are people who regularly engage with the activities of the charity and are often vital conduits to other people who might become engaged. Gaining supporters is also hard work as a climate concerned charity. The range of organisations which would regard themselves as climate concerned spans 'conservative' organisations such as the National Trust, to the climate activists of Just Stop Oil and Insulate Britain. Positioning yourself as a charity within the spectrum can be difficult and tackling pre-determined views of what your organisation does even more so.
Without doubt, the biggest challenge of our first year has been the loss of our venue, although this may prove to be a blessing in disguise. Sadly, as our first year in venue came to an end, the financial organisation from which we were sub-letting our venue was acquired by a larger financial entity who wished to make use of the space we were occupying. So, we had to move out in September 2022.
What Next for What Next?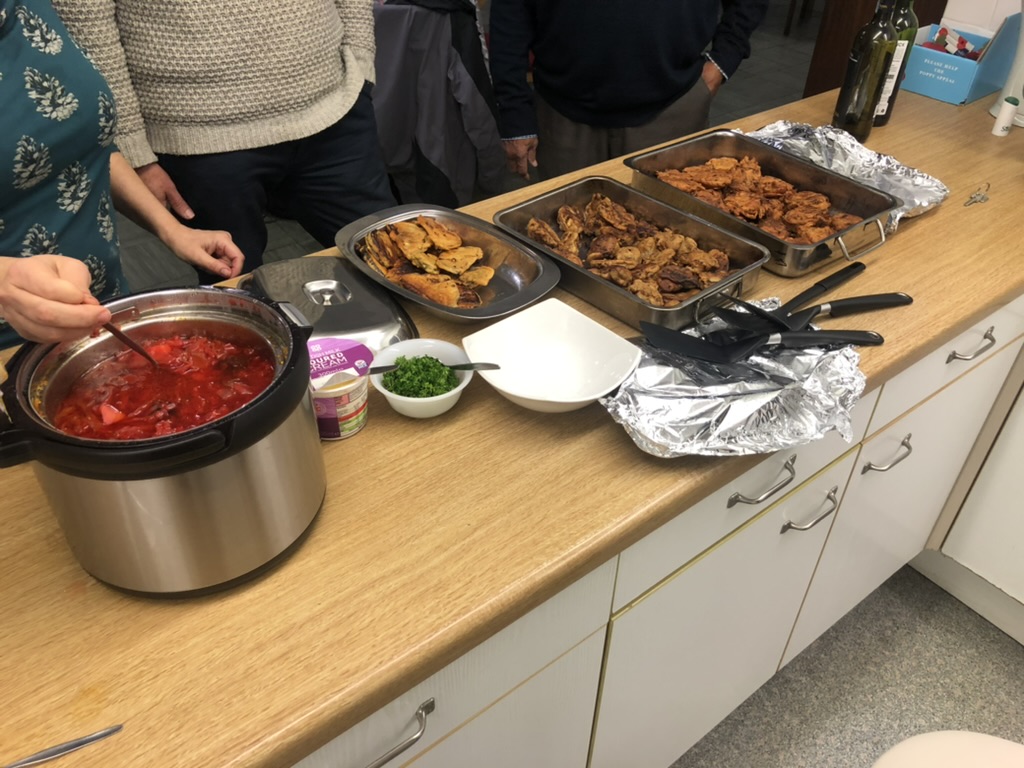 We are now operating a 'pop-up' CEC and all our activities continue, from our climate club with shared supper (see left) – now meeting in the venue of another local charity – to our climate action workshops – now being run on a monthly basis on-line. During COP27, we again ran climate action negotiations for local schools, we hit the streets of Godalming with information and our eco-buskers, and we spent an evening with volunteers from another local charity sharing information about our planetarian diet over a shared vegan jalfrezi at The Wharf in Godalming.
Times are harder, budgets are stretched and everyone seems to get busier and busier. With energy bills soaring, we are now somewhat thankful not to be in a venue. Being a 'pop-up' has presented new opportunities to build partnerships and alliances with other groups and public bodies. We have much more work to do because, as this year's weather has demonstrated, we are in a climate emergency, we might not yet know what's next, but What Next will be ready to help whatever happens.